12/14/17 – The final prototypes have been sent out to users for testing. The final boards will be manufactured over the next two weeks (color will be Black for the first group of boards), and assembly will begin at the end of the month. As long as no issues exist on the final board, orders should still start going out at the end of the month.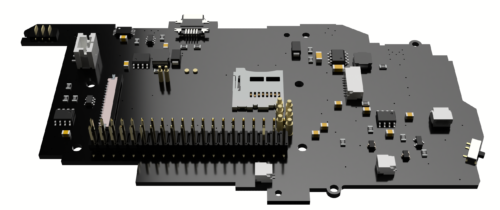 Pre-orders are open for V4, and can be placed as a backorder on the V4 Product Page. Thank you guys for the pre-orders you've placed so far. It's good to know that you are as excited as I am to start shipping these.
If you prefer to wait until the board is released and stocked, the product page also allows you to sign up to get notified when it is in stock. The board is still under development, but design is close to completion. The first shipments should start going out within the next month or so (hopefully sometime in December), and will go out at a trickle at first while I perfect the building/testing process. The final prototype is on the way now and will arrive mid to late November. It needs to be thoroughly tested/stressed and software needs to be finished. The final board will then be made, which takes approximately 2-3 weeks. Shipments will begin once that arrives. I cannot give an exact shipping date, but I will work as quickly as possible to get them out. Edit: I noticed that my site's international shipping weights were a little off and a few people got overcharged for shipping ($23 instead of the normal $15ish) when they added a couple accessories. I'll refund the differences when the boards go out. I've fixed the cause of the issue.
Use of the PSP's original battery was discussed in the past. I added solder pads to the Version 4 board for a PSP battery connector, and if you want a connector included with your shipment please add a note to your order that you want it included. I'm not charging extra for the connector, but I will not be soldering these in place for you. Please understand that the original PSP battery was rated for 3.6v and my charging circuits are for the newer 3.7v battery chemistry. Some of the newer PSP aftermarket batteries are rated for 3.7v. Please do not use a 3.6v PSP battery on this board, it can lead to damage or injury if the battery becomes overcharged.
---
Visit the Version 4 Store Page if you want be preorder or get notified when the board gets released.
---
Hardware Changes in Version 4
LCD driven using GPIO
All LCD control will be integrated into the all-in-one, meaning no external controller will be needed.
Backlight dimming allows for reduction in power consumption.
Greatly improves the quality of the display.
Runs at the same resolution as the original PSP
Improved battery charging
Precision battery voltage monitoring.
Play while you charge. The power consumption is typically under half an amp (as low as 1/4 amp), and charging is set to 1A, so you're able to play while the PSPi is plugged in and charging.
Works with 3.7v lithium batteries, and includes a JST connector for easy and safe attachment.
Improved joystick
True analog input (in the games that support it)
Can also be used it as a mouse. I won't be supplying the code for this (at least initially), but the capability is there.
Less soldering required
Uses the original PSP's method of making joystick contact, so wires don't need to be soldered to make a connection.
Instead of soldering to the pads on the underside of the Pi Zero (for USB and microSD), gold-plated contact spring pins will be used and the Pi will screw into position.
Easier soldering of the GPIO pins. A header will be pre-soldered to the board, so only the Pi's GPIO pins will need to be soldered. This wasn't possible in Version 3 because the LCD controller used all the available space.
JST connector to attach the battery. No more dangerous battery wire soldering.
Speaker wires will attach using 1.0mm JST connectors. The wires will have to be soldered to the speakers initially, but connection and disconnection will be easy once the new wires are soldered.
Increased efficiency
Integrating more features allows for lower power consumption and more control over what features are enabled and disabled
The removal of the external LCD controller removes much of the power consumption and heat generation.
LCD can be dimmed to lower power consumption
Audio can be switched off to lower power consumption
My tests (with the cell phone batteries from v3) put the play time over 6 hours and command line time at 18 hours. This relies heavily on the quality and capacity of the batteries.
Boost converter is no longer part of the board, and this improves efficiency by 10-20%. The microUSB port at the top is powered directly from battery.
Better emergency shutdown circuits
Will kill power once battery is depleted (about 3.5v). This is a hard-wired feature that won't require software to function. It serves as a backup in case the software features aren't working for some reason. If the PSPi is powered on with depleted batteries, it will power off almost immediately.
Redrawn outline
More accurate hole positioning, which is needed for proper joystick alignment
Better USB port positioning
Additional indication LEDs
LED indication on the left side for SD card activity (or any other use for those that know how to code)
Better audio using a buffer-filter-amplifier setup
Improved audio filtering to get rid of more PWM noise. Very similar to the audio circuit in the Pi 2.
Speakers can be switched off using the switch on the left side (which will lower power consumption and give a little more play time)
All of the PSP's buttons will work.
Volume buttons will be able to adjust volume up and down.
Display button will adjust display brightness. This may be done by just alternating brightness in 10% increments when the Display button is pressed, or may be done by pressing and holding Display and then pressing Volume+ or Volume- to adjust brightness up and down. Still working out the specifics.
Pressing the Home button will exit games in the same manner as pressing Start+Select
---
Other Features of Version 4
Ability to use Lakka. The board will only have RetroPie compatibility at release, but I plan to make an image with Lakka at a later date.
MicroSD port has been relocated to the bottom of the V4 board.
A connector has been added to the bottom of the board, and will help to add a headphone jack at a later time.
Ability to add a connector and use the original PSP's battery. This is not a recommended addition since the PSP's battery has a different operating voltage, but it is available for those that want it. I'll include the connector and the end user can solder it into position, just let me know you want it included by adding a note to your order.
Solder pads on the bottom to add additional I2C modules. This allows you guys to add RTC modules, or even add additional inputs.
---
Software Progress 
Check it out (and help improve it) on GitHub