Visit the Store page to get notification when this board is ready for purchase.
Update 1/14/17
Prototype 2 arrived and I'm putting it through some tests. The Pi gets soldered directly to the board. All GPIO connections and SD card connections get routed through the board. The board has a switch in the position of the PSP's original Wifi switch, and it is used to turn the audio on and off. The PSP's power input connector is included, so no soldering is needed for it. The battery gets soldered to the bottom opposite the power connector. USB is included. I'm really happy with the results, and so far it looks like only a couple small tweaks need to be made to the final version. Check it out below.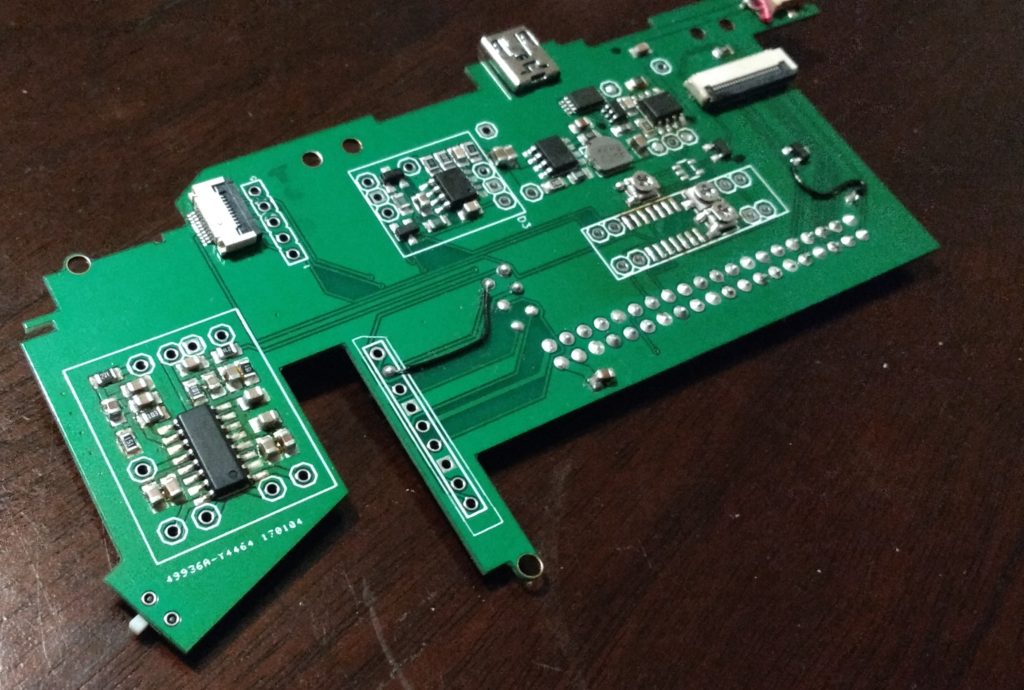 Overview:
Version 1000.3 is going to be a little different, and will start with me designing a custom PCB. Instead of manual soldering of the wires, a PCB will interface with the FPC connectors and GPIO. Initially the plan was only to make a board that interfaced with the FPC, but this grew into an all-in-one. It doesn't integrate every feature, but it integrates most of them. The end result will be a project that takes hours to complete instead of days or weeks. Hopefully this will open the project up to more people that want to build it. This won't be a drop-in replacement for the original PSP board, and it will still require some decent soldering skills, but the process will be simplified.
The hardest part of this design has been the PSP casing. Fitting everything in properly, getting the mounting holes lined up, lining up the USB, and orientation of the Pi has been very difficult. I didn't have anyone else's work as a starting point, so this has been a slow process.  I'm almost there though.
These circuits will be included on the PCB:
LED Status Circuit for Charging and Low Battery
Raspberry Pi Low Battery Warning LED Circuit
Raspberry Pi Zero Audio Filter Circuit
Updated On/Off Circuit
Simple Joystick using LM339
Audio Amplifier Using PAM8403
Lithium battery management (proper lithium charging, protection, and boosting to 5v)
---
Overall PCB design progress – Updated 1/4/17 – Features Locked, No Additional Features Will Be Added

Design and Order Test Board for New On/Off Power Board Complete
Test and Integrate On/Off Power Board Complete
Integrate LED Status Circuit for Charging and Low Battery Complete
Integrate Raspberry Pi Low Battery Warning LED Circuit Complete
Integrate Raspberry Pi Zero Audio Filter Circuit Complete
Design and Order Test Board for Audio Amplifier Using PAM8403 Complete
Test and Integrate Audio Amplifier Complete
Design and Order Test Board for Simple Joystick Circuit using LM339 Complete
Test and Integrate Simple Joystick Circuit using LM339 Complete
Reposition Pi for Better Fit Complete
Design and Order Lithium Charging/Protection Test Board Complete
Test and Integrate Charging/Protection Board Complete
Design and Order Lithium Boosting Test Board  Complete
Test and Integrate Boosting Board Complete
Order Prototype 2 – Complete

Test Prototype, Order Final Board, Start Pre-Orders