Modify Your Composite LCD to Work at 5v
To purchase a 4.3″ LCD with the following process already completed, visit the store.
Most of the available composite LCDs are made for 12v supplies. Some of them work at 5v, but most only work properly between 6-12v. The ones that do work at 5v usually work very inefficiently.
This tutorial will show a method of adapting the driver to work at 5v, matching the operating voltage of the Raspberry Pi. It applies to the drivers with a 1509 buck converter only. LCD's with other buck converters function a similar manner, but the pinouts may be different. Please do research before proceeding if you have a different component.
Here is a typical driver board for a composite LCD. This the driver for the 4.3″ LCD that's used in the PSPi projects. It has 4 inputs: +in, GND, composite 1, and composite 2. The +in is usually 12v, which then routes through a buck converter, and this converts it to 5v.
The component that's circled is the buck converter, and it usually has some variant the number 1509 written somewhere on it.
Remove this component entirely, while avoiding damage to the surrounding components. I normally use a rework unit to accomplish this.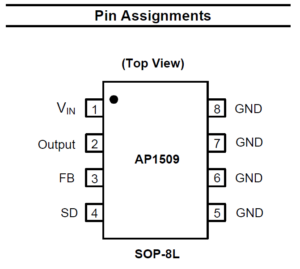 Once the component is removed, the buck converter circuit has to be bypassed. So we first have to determine the location of Pin 2 (the 5v output of the component we removed) on the board, which is pretty easy using this image from the AP1509 datasheet (available here). One side of the component has Pins 5-8, and all four pins connect together to GND. This means that the traces on the board will all be connected to each other.
Now that you determined where Pins 5-8 are, you can see that Pin 2 is on the opposite side. This is where we will now be connecting the +5v power input.
On my driver the left pin was the original +in, and I wanted to keep it this way. I was able to easily do this because there was a second +in solder pad above the original one. All I had to do was solder a wire from the pad to the Pin 2 location. This is shown here with the red line. Obviously the component will be gone at this point, but this should give a good representation of what needs to be done. If you don't have a driver with the 2nd solder pad, then just connect the +5v directly to the Pin 2 location and everything will work exactly the same. Be careful not to bridge any connections or damage surrounding components in the process.